In his fourth Hindi film titled Soorma, Punjabi sensation Diljit Dosanjh is trying something absolutely different – he is playing hockey! The biopic, based on the life of international hockey player Sandeep Singh, also stars Taapsee Pannu and Angad Bedi. Soorma's trailer dropped today and the trio has seamlessly transformed into their respective characters. Directed by Shaad Ali, Soorma is set to release on July 13.
The trailer gives us a perfect glimpse at the riveting story of hockey player Sandeep Singh. It begins with a carefree Sandeep wanting to impress the love of his life, only to find his ultimate goal in the game of hockey. Just when he sets out to win a medal for India, an accident leaves him paralysed. He not just loses out on playing the game, but even his love. As Sandeep gathers strength and resurrects himself, the film traces his journey back to the hockey field.
Before showing the trailer of 'Soorma' to the waiting press, the makers of the film – Chitrangda Singh, Deepak Singh and Sony Pictures Networks – showed a real glimpse of the life hockey star Sandeep Singh has led so far. The showreel encapsulated his journey into the world of hockey and what really earned him the title Flicker Singh. Those who follow the sport would know that this is the title given to him only because he is regarded as the world's fastest drag-flicker even today.
The trailer was unveiled in the presence of its director Shaad Ali, composers Shankar-Ehsaan-Loy, lyricist Gulzar and actors Diljit Dosanjh, Taapsee Pannu, and Angad Bedi. When asked which hockey players' biopics he would like to watch, Sandeep Singh said, "Baba Dhyan Chand and Dhanraj Pillai. One is regarded as the father of hockey in India and the other has helped me a lot in my career. Both have achieved a lot in the sport and their triumphs should be brought before the world."
Keen to watch the inspiring story of hockey legend Sandeep Singh… #SoormaTrailer only enhances your interest in the movie… #Soorma stars Diljit Dosanjh, Taapsee Pannu and Angad Bedi… Directed by Shaad Ali… 13 July 2018 release… Link: https://t.co/Y67couUVVJ

— taran adarsh (@taran_adarsh) June 11, 2018
Taking the discussion on biopics further, Shaad Ali was about a comment that director Milan Luthria had once made while promoting 'The Dirty Picture'. He had said that the reason biopics are increasingly being attempted is that there is serious dearth of original concepts and stories. To this, Shaad said, "This is his point of view and I don't quite agree with it. There are a lot of original stories and concepts along with biopics which are all being attempted."
'Soorma' has seen a difficult journey before reaching the stage that it has today. The film has been in the offing for about three years now. Sandeep's part had been offered to several A-list actors and plenty of studio honchos were approached to back it as producers. Eventually, the film found its perfect cast in Diljit, Taapsee and Angad who play Sandeep Singh, Preet and Bikramjit Singh in the film.
When asked about becoming a producer and the fact that there are fewer actresses backing strong films as producers, Chitrangda said, "A good story can be backed by anyone. The story could be a biopic, a woman-centric film or a sports film. It must entertain and make a point. As for women producing films, my studio partner is also a woman who didn't leave my hand all throughout the making of this film. So, more power to us. My journey as a producer only became simpler with her, Shaad Ali and the cast coming together. I couldn't have asked for a better team. Till I became a producer, I didn't know the hardships the job involves. Every actor must make a film once to experience that."
Watch | Soorma trailer starring Diljit Dosanjh and Taapsee Pannu
In 2006, Sandeep Singh got paralysed after an accidental gunshot and was on the wheelchair for two years. Soorma reveals the story of his struggle and ultimate comeback to international hockey in 2008. Uner his captaincy, India went on to win the 2009 Sultan Azlan Shah Cup and even qualified for the 2012 Olympics.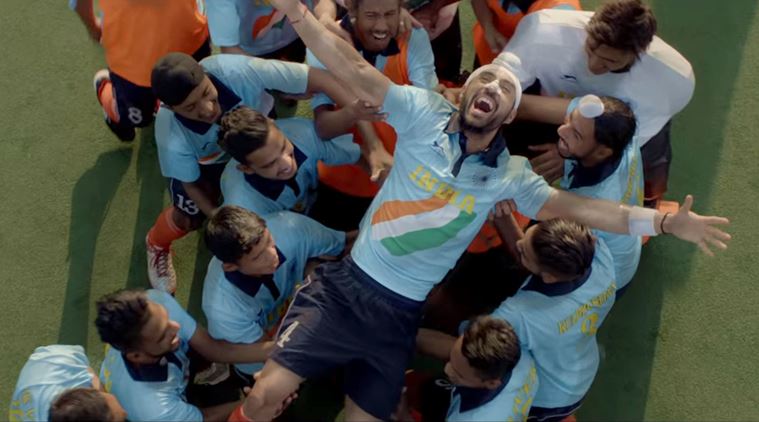 Soorma movie trailer: Diljit Dosanjh in a still from the film.
Talking about playing the real-life hockey player, Diljit had previously said, "There was a little embarrassment too, that being an Indian and a sports enthusiast, I didn't know about the story, wasn't aware of the person (Sandeep Singh). So there was a guilt that why we weren't aware. It is just probably a way to rectify it, that let us be the medium to present his story. I hope now no one else says the same after the film."